Serious bird enthusiasts will appreciate the elimination of bird feeder damage by natural foraging creatures.

715-573-7663
Remove the "reward" and eliminate damage from natural foraging creatures.
The
BIRDS ONLY
Feeder System positions your bird feeders far from the reach of bear, deer, squirrel, raccoon and other non-winged animals.
EASY CLEANING!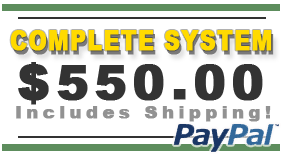 Now with this tested and proven system, you can enjoy peaceful year-round bird feeding!
Order Yours Today!
$550.00


BIRDS ONLY Installation Video


"...it looks great and is working great as well!!!"
- Louise W.
"The squirrls have given up on it. I am very happy with the system!"
- Ellen W.
"I have seen bears in the yard since the system has been up. There have been large paw prints up the pole up to 5 feet. I leave my feeders up all the time now with confidence."
- George D.